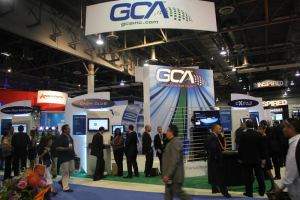 First impressions are extremely important when setting up your tradeshow displays. Most trade shows will have hundreds if not thousands attending. With the large crowds and numerous trade show booths, you need to have yours stand out and make clients want to stay. One of the biggest reasons that trade show booths may turn clients off is if it is outdated. Does your trade show booth need a new look? Here are some key questions to ask yourself.
Old Graphics
Are your photos a blast from the past? Take a close look at all your photos, both on your brochures and on your tradeshow displays. If she's wearing a hairdo that would fit in a 1984 music video and he is wearing plaid polyester pants, it's a sign that you need new photos.
If you are replacing your photos, hire a professional photographer. Most will understand that you need to keep this photo for years to come and will be able to suggest clothing styles that are timeless. Khaki pants, jeans, polo shirts and simple one color dresses are good choices. You also want to keep hairstyles basic and jewelry to a minimum, this will keep your pictures from appearing "dated."
Worn Down Display Stands
Do you carry around a repair kit to each trade show? Does your tradeshow displays need constant maintenance? Clients can spot a mile away if you're using duct tape to hold your trade show booth together. Not only does it look unprofessional but it also makes you and your company look cheap. Who wants to buy a cheaply made product?
Before each trade show, carefully examine your displays. Look for any rips, tears, holes or faded images. Also if you have any furniture, inspect that as well. You want them to feel study and safe. If you use your own rugs or carpet, check to see if they are still colorful and not frayed.
Updated Lighting Matters
Lighting is such a major issue at trade shows; many bring in their own lights to enhance their tradeshow displays. Is your lighting current? Browse through some current home décor magazines. They can quickly give you idea on what is modern and fresh. If you use floor lamps, consider changing out your lampshades. Overhead lighting can be easily updated with new fixtures. Don't forget to use energy-saving bulbs, clients do notice these things.
With just a few adjustments, you can update your trade show booths with a fresh new look. New clients will stop and chat with you about your products. Old clients will return to see your updated trade show booth, bringing you even more business.