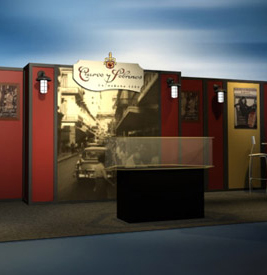 If you're reading this blog, you already understand–or are learning–the importance of good trade show booth design.  After all, your exhibit booth acts as a "door-knocker," the lead generator that attracts your prospects' attention so that you or your sales force can take them further down the sales funnel.
But having great trade show exhibit design is only part of the equation.  Making sure you have a simple, prospect-centered sales message that is approved by your sales force, will work with your booth design to improve your bottom line.  Here are three tips to help you do just that.
Let your sales staff have final say on what you hand out at the convention.
You'll most likely have people from all different departments telling you what you should hand out at your convention.  Go ahead and go with the people who count most for your bottom line: your sales force.
This may not be the way you're used to doing things.  And to be honest, it might really ruffle the feathers of your employees in other departments–maybe even your partners, too!
Stand your ground and insist on letting your sales force have the last word.   Listen to your experienced sales people when they talk about what sells and what doesn't.  You'll love the bottom-line results, and be a hero for your suggestion.
Remember that trade show attendees are thinking about themselves–not you.
Don't hate them for it–after all, you probably aren't going to your next trade show for charitable purposes!
Instead, take advantage of basic human nature and talk to your prospects about themselves–and how you can help them get what they want.  Keep in mind that the only reason your prospects are interested in you, is because they are interested in themselves.
That's why, instead of telling potential customers how great you are, you should communicate how great you can make them! Too many businesses make the mistake of focusing on themselves, when they should focus on their customers instead.  Avoid this mistake, and you'll raise yourself head and shoulders above your competition.
Give prospects a simple message to digest–and take home.
Unless you're selling paper clips, your product or service is WAY too nuanced to be summed up in a single sentence.  At the same time, the best way to get people to remember you and  your product is to give them something simple they can grab on to–even if your full product or service is anything but simple.
Your marketing material can, of course, explain all the complexities of what you offer.  But don't forget to deliver a single, short, benefit-oriented message or slogan that your potential customers and clients can remember you by.