Before you pick a trade show exhibit company there are a number of things that you should consider about each one. These factors should be compared to ensure that the right company for your trade show needs is chosen. One of these is the reputation of the business in the industry, because this can indicate whether they provide top quality and reasonable pricing or not.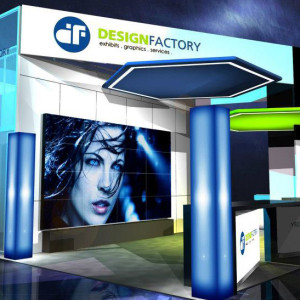 It is important that you know who will provide any graphic design services that are needed. You must first know whether you will need to do this or whether the company that you have chosen will handle it instead. You should always perform a cost versus benefit analysis to see which of these entities will give you the most bang for your buck and help make these events a huge success.
Find out what exhibit types and options every company can provide. Then compare these to make sure that you can get the desired types and options with the company that you finally choose. You should also look at the past trade show experience that each business has. Experience can make a big difference in the results that you get.
1. Company Reputation in the Industry
The reputation that a trade show exhibit company has says a lot about the business. When a company is known to give exceptional results and top quality then this makes them an ideal choice for your trade show and convention needs. Any choices that have a poor reputation or who have not been in business long enough to build up any reputation at all may not be the best choice.
2. Graphic Design: Who Provides It?
When you are examining a trade show exhibit company make sure you understand who will be responsible for the graphic design of your exhibit. Never just assume that the chosen business will handle this part and that you will not need to do anything further. Ask if you are not sure or if this is not spelled out in any agreement or contract.
3. Cost versus Benefit Analysis for each Trade Show Exhibit Company
When you perform a cost versus benefit analysis for a trade show exhibit company you will gain an understanding of the total costs that you will pay and the benefits that you will get in return. This will help you compare businesses and determine which one will give you the most pow and pizazz for the lowest price possible.
4. What Exhibit Types and Options Do They Offer?
Each trade show exhibit company may offer specific exhibit types and additional options. These can vary greatly from one entity to the next. Always find out what your choices are so that you can make an informed decision, instead of just going with the first type that you come across and without regard for any additional options.
5. Past Trade Show Exhibit Experience
How much experience does the trade show exhibit company that you are getting ready to pick actually have? This is an important piece of information. A lack of experience could cause some newcomers to the industry to make common but costly mistakes in exhibit or graphic design. Ask how many years the company has been in business and how many exhibits they have designed.
For more information about trade show exhibits visit the Design Factory website.
What other things do you think are important when choosing a trade show exhibit company?