Convention exhibit design tips can help you create a booth that is memorable and that stands out even with many competitors, something that draws attention on the show floor and gets the visitors to your area in large numbers. Some of the most memorable exhibits are creative and well outside the box, and that gives them an edge.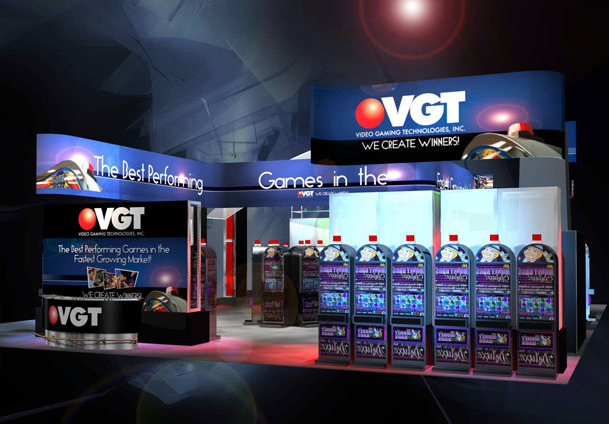 Convention Exhibit Design by the Design Factory, Trade Show Exhibit Company
When you decide the trade show banners that you will use it is important to keep your targeted visitors in mind, and to look at these materials through their eyes. The text that is used for the display should be large enough so that it can be seen and read from across the room, otherwise you could be overlooked and passed by for booths that do feature this component.
When you choose colors and material types it is a good idea to limit these to a maximum of three, and you should avoid using text on any background that has a texture because the words may be difficult or impossible to read. Place display text high enough on the booth so that any crowds of visitors at your exhibit will not block this content from view.
1. Use a Memorable Convention Exhibit Design that Visitors will Remember
Your convention exhibit design needs to be special and somewhat unique if you want visitors to stop by or remember your company once the event is over. Get creative and look at what most of your competitors are doing, and then try something different and original instead. This will help you attract more traffic to your area and may translate into more leads and sales as well.
2. Design Trade Show Banners with Your Target Visitors in Mind
When you create your trade show banners try to look at these materials the same way that your targeted visitors will. Is your branding consistent and appealing? Does your message engage the visitors that you want to attract or is it boring and bland? When you look at your materials with a new view you may be surprised at what you see.
3. Make Any Text Large Enough to be Visible from across the Floor
A big mistake in convention exhibit design is to use text that is too small to be effective. If visitors across the show floor cannot see and clearly read the text then it is a waste of space. Large letters, bold colors, and other creative methods of helping your text stand out can give you more traffic, more leads, and even more conversions in many cases.
4. Use a Maximum of three Colors and Material Types
Using too many colors or types of materials should be avoided. Professionals in convention exhibit design recommend using a maximum of three different colors, and no more than two or three types of materials. More than this could cause your booth to be crowded or confusing instead of appealing, and that could actually cause visitors to avoid your area instead of being drawn to it.
5. Avoid Text on Textured Backgrounds because it May be Difficult to Read
Using a convention exhibit design that places text on a textured background is not a good idea. While this may work in some cases it can often cause your message to disappear in the background and become hard to see. You want your text to stand out, not fade away or disappear because of textures on the materials that you have chosen.
6. Place Any Text High Enough so That Booth Visitors do Not Block the Text Display
Place any trade show banners and other displays that contain text high enough so that the view of traffic across the room will not be blocked. If you have many people in front of your area then low placed text may not be visible and this could cost you potential customers and future revenue.
What convention exhibit design tips are you willing to share?