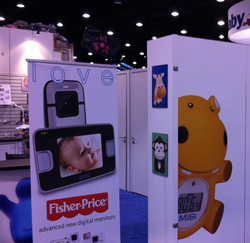 Trade show booths are extreme forms of marketing that are designed to generate interest in your products. When you are going over your trade show booth design, there are tips you should keep in mind that will help draw attention and generate revenue.
Display Booth Layout
It is important to remember that trade show booths need to be accessible for the attendees and easy for your staff to navigate. A complicated footprint will only serve to reduce your staff's ability to effectively communicate with clients.
Use as much open space in the middle of your booth as possible. If you want to create a sitting area where sales people can talk to prospects, then put it at the back of the booth so it is away from the traffic and the noise.
Display tables, information racks and operational product displays should be on the perimeter of your booth. Special products that have been getting significant press can be placed in the center. But the middle of your booth should be left open for sales people to interact with the attendees.
Gimmicks in Trade Show Booths
An exhibit display that shows your latest and greatest product should not be overshadowed by spinning gimmick and flashing lights. Display posters and static lighting is extremely effective. But the only thing that should have motion is your product display.
One gimmick that works for a trade show booth is having a celebrity available to talk to prospects and draw the interest of the attendees. Famous professional athletes or local television personalities work well for this purpose.
Trade Show Graphics
The more graphics and images you put on your trade show booth, the more traffic you will attract. There is a balancing act that you must do between graphic overload and effective marketing displays.
Keep your booth graphics focused on your company and your products. If you have a celebrity at your booth or you are doing a special promotion, then be sure to have a poster or image prominently displayed on your booth that advertises the attraction.
Information at the Trade Show Table
Your trade show booth needs to be fully stocked with marketing brochures, product sales literature, customer contact information sheets and the office supplies you need to run your booth.
Set up a table behind the scenes where you keep all of your extra literature and supplies. When you see that sales literature is getting low on the booth floor, replace it immediately. But keep the supply table out of the way and out of sight.
Trade show booths need to be practical and exciting. The practical part helps to supply your sales people with the information and resources they need to sell your products. The exciting aspect of trade show booths is what brings in foot traffic and drives revenue.