Automotive trade shows, like SEMA, are a fantastic way to market cars, tools, components, and parts. These trade shows attract thousands of businesses and exhibits. But with all the competition what can you do to stand out from the crowd?
The Best Exhibit Ideas for Automotive Trade Shows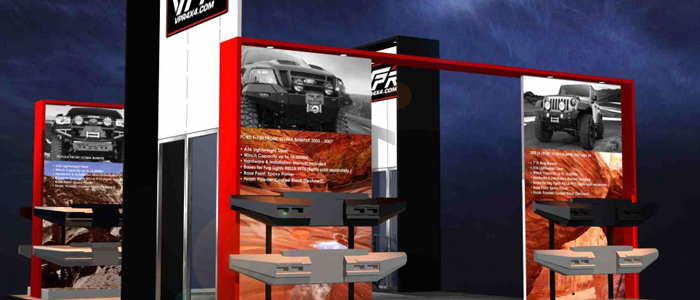 Trade Show Exhibit by the Design Factory
1. Espresso Bars are Popular at Automotive Trade Shows
One of the most creative ideas for automotive trade shows is an espresso bar. What better way to provide a pick me up to visitors who may be tired and need a boost of energy? When the aroma of espresso starts to filter across the floor, crowds will flock to your booth to get a taste. You can include syrups, whipped cream, and other additives.
When you create an espresso bar you are engaging visitor's sense of smell and of taste. This will make your area extremely enticing. Whether you are showing vehicles, car accessories, or automotive parts this idea is just creative enough to ensure you get a much better flow of traffic to your booth.
2. Simple Exhibit Ideas May Work Best
Don't get too elaborate and complex with your exhibit ideas for any of the popular automotive trade shows. Remember that simplicity speaks for itself. If you have vehicles or auto products that shine without any help, then clean lines and a simple and uncomplicated display may show these off best. It can be a more effective method to get noticed faster on the show floor, drawing more traffic to your booth.
3. Include Unusual Architecture in Your Booth Design
When you are choosing the best booth design for automotive trade shows add some unusual architecture to make your company and display really stand out. An innovative display with a modern twist, such as several angles or unusual design shapes can set your booth apart on the trade show floor and give you better results from any event.
4. Make White your Favorite Color and Avoid a Wide Array of Colors
One of the most innovative exhibit ideas for automotive trade shows is to use a great deal of white space with minimal accents in one color. This will make your area seem like a beacon of light, with a bright yet stark appearance that can be the perfect backdrop for the newest model cars or high end automotive products that sell without any help or marketing hype.
Some of the most successful booths in the last few years have used this concept, and some of the most recognized automobile manufacturers and car companies in the industry have achieved exceptional results by staying simple and keeping color use to a minimum, if any color at all is used in the exhibit and booth display.
 5. Utilize Large Screens and Oversized Displays
One of the top marketing techniques for automotive trade shows is to create massive displays and utilize large screen monitors to design a booth that is over the top and excessive. It is possible to combine two or more large screens to result in a display that is crisp, clear, and highly impressive to anyone who sees it.
The cost of an enormous display made from large screens can be high at times, especially if the screens use the latest in audio/visual technology and high definition. Touch screens can also be an option if you want something smaller that will still impress everyone who stops by your area, but these will typically be more expensive.
6. Add Interactive Games with Car Themes
One of the most exciting and appealing exhibit ideas for automotive trade shows is to .add interactive games with auto themes. Racing games, driving simulators, and other vehicle-based games that are interactive can make your booth an instant hot spot for visitors. Everyone will want to stop and see which games you are offering.
Every interaction is a chance to create relationships… that generate leads… that turn into sales and repeat customers.
Source: Trade-Show-Advisor.com
The traffic that you get at your booth will be thrilled and delighted to get a chance to sit down and spend a few minutes relaxing while they play a game. Mix up the titles so that you offer several choices, and there are games that appeal to a very wide audience.
 7. Take Advantage of the Appeal of Neon
If you plan on attending automotive trade shows, one of the top exhibit ideas that you may want to use is to take advantage of neon. This type of lighting can be used in a number of ways to make your area more appealing and attractive.
What creative and eye catching ideas have you used for automotive trade shows in the past?