Many exhibition design mistakes are all too common. These can determine how convention attendees view your company and your products or services. One of the areas that may be overlooked during the design process is traffic flow. Nevertheless, this is one of the top elements that determine success at an event.
Your trade show booths should have a powerful message that is very effective, without being extensive or trying to cram too much information into it. Make sure that you choose exhibits and marketing materials that coordinate, so you get a consistent appearance across all areas of your booth. Safety should always come first, even if you must sacrifice a little appeal to do this.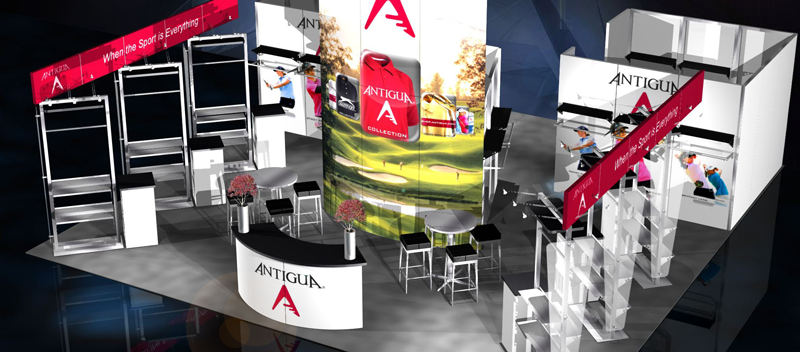 Antigua exhibition design by the Design Factory Trade Show Exhibits
Going over your budget is a big issue, and this can be avoided with a little advance planning and evaluation. Keep you booth and area clean and clutter free, otherwise you could lose out on potential customers. Storage should be considered before you decide which materials and displays to include in your exhibit.
Exhibition Design that does not Consider Traffic Flow
Always make traffic flow one of the highest priorities with any exhibition design, so that attendees will be able to come to your booth, obtain the materials or products they want, and then move on fairly quickly. Look at the space and layout of the display to ensure that visitors can move without congestion or long lines and wait times.
Trade Show Booths that are Ineffective in their Message
The messages that you send with trade show booths should be strong yet to the point, appealing while being authoritative. If you are using one or more messages that are ineffective then you may not reach the targeted visitors that you want, and you could get fewer leads and less in overall sales than what your initial expectations were.
Marketing Materials and Exhibits that do not Match
Your exhibition design and materials should match the materials that you create for marketing purposes. If these elements do not match and complement each other then the final result may not be as attractive. Visitors may choose someone else who did consider this aspect and choose matching elements instead.
Failing to Put Safety First
An exhibition design that is incredibly unique will do you no good if your displays and booth are not safe for visitors and staff to use. Tangles of electrical cords, appliances and electronics that are not safe to use, and other safety hazards cannot be tolerated. Make sure every element and component of your display is as safe as possible.
Going over Budget is a Common Mistake
Setting a budget for exhibition design is easy; sticking to this is much harder for many companies. Make sure that your budget is realistic when you look at all of the components and requirements that you have. If you want the best spot on the floor and the largest display at the venue then you will pay more. Stick to your budget and make tradeoffs if necessary.
A Cluttered Booth has a Negative Impact on Visitors
Cluttered trade show booths make you look bad in the eyes of the show visitors, and to other vendors and exhibitors. This can make it harder for traffic to flow past your booth. Items can create a trip and fall hazard, and a messy area reflects poorly on your business image. Make sure you keep your booth clean and clutter free.
Always Consider Material and Display Storage
Storage should always be a consideration with your exhibition design, and it is just as important as the materials used and the price paid. Some trade show booths require little storage room. Others need a lot. Think about this when comparing different components and materials.
What other exhibition design mistakes have you made in the past that you can share with others?