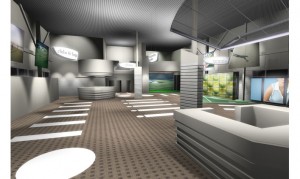 A Las Vegas trade show is fast paced and loud. Thousands of potential customers flock to each show; hundreds of trade show booths are there. How can you make sure your trade show booths succeed and draw a large crowd?
Consider a few tips and tricks that you can prepare ahead of time to make your trade show booth a winner.
We can help you in each of the following areas.
Have plenty of promotional items on hand.
Everyone loves something that is free. You can print your company logo and contact information on it; this will help to advertise your business outside of the Las Vegas trade show.
You can also call the trade show planner ahead of time to find out how many they expect to attend the show. This way you can plan on how many items you will need. Useable items such as pens, reusable grocery sacks, and notepads will have many flocking to your trade show booths.
Good lighting at your trade show booth matters.
With all the displays and props, shadows can be cast making your area seem dark. Different convention centers and arenas will have different types of lightning; it is best that you adjust your trade show booths to each show. You may need to add lamps or low-key spotlights to make your business noticeable.
Signs and lettering are vital.
You want your business name and perhaps your product to be readable from far away. Many clients may not have the time to visit each booth and will do a quick glance around the room to see what is important to them.
You want your trade show booths to grab them right away. The style of your lettering will quickly give the tone of your business. Does your business cater to women, sport fans, finances or children? The lettering of your trade show booths should reflect the type of clientele you are trying to attract.
Keep your leads organized.

Consider how you want to keep in contact with potential clients after the trade show. Even if your trade show booths generate large crowds, you will need to keep in contact to follow-up and sell your products.
There are many ways to do this.
Business cards are simple and easy. Ask potential clients to drop their business cards in a bowl for a prize drawing. You can use these business cards later to build a client list.
Does your company put out a newsletter? Try to get the potential clients' emails so you can add them to your company's email list. You can then send out newsletters to keep clients informed of your company's products and promotions.
These are just a few ideas on how to make your trade show booths a winner. At DFLV, we can help you with these tips and suggest more. Let us personalize your booth and help it succeed in the next Las Vegas trade show.