Your trade show booth flooring is the foundation of your exhibit and not to be forgotten when designing exhibits. Much attention is paid to banners, graphics, displays, and exhibit accessories but flooring plays a vital role too.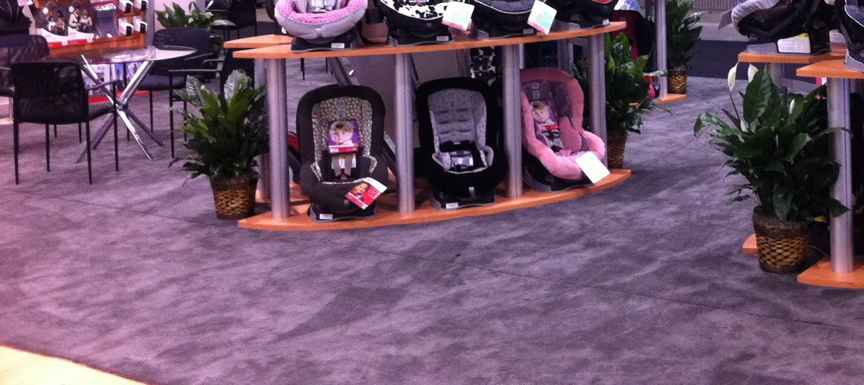 There are a variety of choices for trade show booth flooring and some common questions that come along with choosing what works best for each individual design.
Trade Show Booth Flooring – Questions and Answers
1. What Types of Trade Show Booth Flooring Are Available?
Before you make any final decision on trade show booth flooring you will need to know what your options are and what types of flooring you have available to choose from in order to make the right choice. Examine all of your possibilities, look at all of the important aspects for each type of floor, and then decide which type to use.
2. What Flooring Types Will Work Best With My Exhibit Accessories?
Each booth area at a trade show will have different exhibit accessories, and you want the overall appearance of your area to be consistent and flow together. Look at the entire appearance and the accessories that you have chosen, and then evaluate how well each flooring type and the various options that you have will work in this setting.
3. Should I Rent or Buy Flooring?
Renting or buying is one of the most common questions asked about trade show booth flooring, and the answer depends on your specific situation and needs. Sometimes renting may be the best possible option because you only need the items for a short time and you do not exhibit often. In other cases, buying may be the most cost effective choice, especially if you use your exhibit several times a year.
4. How Important is Flooring Maintenance?
In addition to fitting in with your exhibit accessories the maintenance needed on the floors needs to be considered. You do not want to have to spend hours each night maintaining the floor in good condition so this needs to be part of the decision that you make. You will want something that is easy to maintain unless you have someone who can handle this task.
5. Which Type of Flooring is the Most Popular?
When it comes to trade show booth flooring carpeting is still the most popular option that you can choose, but that does not necessarily mean this should be the choice that you make. There are a many choices including:
Carpet
Tile
Hardwood
Bamboo
Vinyl
Foam mats
Rubber
Green flooring choices
Printed floor products
Custom Carpets can have digital images of a company's logo printed on them, or be of a modular style.
Source: Info.com
6. Do I Need Any Padding Under the Floor?
No matter what exhibit accessories you have, one area of uncertainty is padding. Your staff will have to stand in your booth for hours at a time so comfort is important. Padding can make any flooring type more comfortable, and any visitors will appreciate this factor. Padding does cost extra though so the comfort needs to be balanced with the budget amount available.
Carpet with thick padding is comforting for those on their feet all day…including staff and attendees. Read more here.
7. How Much Will Shipping the Flooring Cost?
Whether you buy or rent trade show booth flooring you may have additional costs that can include shipping. The actual cost that you will pay to have a floor shipped depends on a number of factors. The size of the floor, the weight of the materials involved, and the value of these items are all calculated into the shipping costs.
8. How Much Assembly Does the Flooring Require?
Some types of trade show booth flooring will require a great deal more assembly than others will. Interlocking flooring pieces can be tricky at times and need to be assembled. Carpeting does not require any assembly and this floor is simply installed in your booth area. If a floor has complex assembly requirements you may need to hire professional help.
9. Should I Choose Indoor or Outdoor Flooring?
You will find trade show booth flooring designed for indoor use and products in this category that are intended to be used outside. Think about where your booth will be located and the typical conditions that the flooring will have to stand up to. If you will be exhibiting in a location that where you anticipate tracking of debris, outdoor flooring inside may be a good choice.
10. How Difficult will it be to Keep the Floor Clean?
Cleaning is necessary during these events, from the exhibit accessories to the flooring that you use. How hard will it be to keep a flooring choice clean and how much time will this take each day?
11. What Colors and Patterns are Offered?
Some types of trade show booth flooring may be available in a much wider range of colors and patterns, and this can play a big part in your final decisions. If you want a certain look that blends with your overall design then you may decide on a floor that offers this effect.
What types of trade show booth flooring have you used before and what did you like or dislike about it?