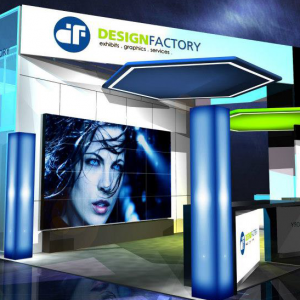 Did you know that trade show rentals can help conserve your budget while allowing you to try different arrangements of furniture until you find the perfect composition for your needs? It's true–and saving money is always a primary concern for savvy trade show booth vendors. Ask any convention booth owner what they want to do at the next show, and the answer will always be the same: "Attract more customers and save more money."
How can trade show rental furniture help you to save money and try out new looks for your booths? Here are a few of the ways you can count on these benefits:
Trade Show Rentals: Save on Shipping

First, traveling with your full booth is bulky and can be very annoying–most booths weigh several hundred pounds. Shipping costs for your trade show booth can soon run your budget out of control. Instead, travel or ship only the core banners and equipment that is customized to your booth. Choose a reputable rental company with solid customer service to provide the furniture, draping and all other equipment. You'll travel more comfortably and thereby have more energy ready for the trade show knowing that you've got what you need ready and waiting for you when you arrive.
Trade show rentals are also quickly becoming the most sought-after way to lessen the environmental impact of running a booth. Because you rent locally, you save the tremendous amount of fuel and energy it takes to ship heavy booth equipment cross-country.

Trade Show Rentals: Expand Your Space with Shelving

Once you are set on the convention floor, you may wonder how you can save money. You're competing with hundreds–if not thousands–of other vendors. How can you save money while still offering a beautiful and tasteful display for your company? Think of the issue just as a city planner thinks of building a city. Just like in a city you can build your booth up instead of out when space is limited or the price is restrictive. Depending on your product, drawer units or an étagère with built-in downlighting can be rented to attractively present your products to the convention audience.
Again, this is an area where renting equipment, especially when traveling, can be a great benefit. The cost of renting high-quality units will likely be much less than buying lesser quality goods and paying top dollar for shipping those cheaper pieces cross-country.
Trade Show Rentals: Add Height and Visual Interest with Pedestals

In the same way that you can add depth and dimension to your booth with shelving, pedestals can be used to add height and visual interest to your booth. These pedestals are ideal for breaking the monotonous horizontal line of tables that are typical to trade show booths. By renting, you will be able to experiment with different combinations of groupings and heights to find something that makes your booth stand out amongst the crowd. The low rates on pedestal rentals can allow you to rent enough pieces to experiment on the spot, and the light weight of these pedestals makes it easy to move them around and rearrange them to suit your needs.