No questions about it, a Las Vegas trade show is one of the greatest venue in the world to showcase your business. One of the reasons is that it has approximately 10.6 million square feet of exhibition space. For 17 years in a row, the city has been the top trade show location in North America. More than 19,000 conventions and meetings have been held there annually.
Lodging for your Las Vegas Trade Show couldn't be easier. When planning your event, you can be sure that you will be able to find convenient lodging for your staff and guests. It doesn't matter what your trade show budget is. From budget rooms to luxurious suites with a five star rating, the city boasts over 150,000 hotel rooms. Of the major destinations in the U.S., Las Vegas is considered to be the most affordable.
Las Vegas Trade Shows are easy to get to. The McCarran International Airport has over 900 flights a day. Scheduling a large assemblage of people can be a nightmare for the person who is in charge of booking airline tickets for groups planning to participate in large trade shows.Some of your exhibition staff has to arrive early to set up your trade show booth and display stands. Others have to arrive at specific times during the event to meet with important clients or associates. Many, especially in top management positions, are often subject to last minute changes to their travel plans.
Entertainment opportunities abound. People look forward to visiting Las Vegas, even if it is for work. In addition to the excitement that the casinos generate, the city is known for excellent restaurants. The chance to see a show done in Vegas style by a favorite entertainer is also a great motivation for your audience to make plans to attend the Las Vegas trade show where you will be participating.
The attractions in the area. The variety gives your business a wide range of client entertainment and contact opportunities in the way of gift bags, raffles and other promotions. Announce a giveaway in your pre trade show marketing mailing campaign and your potential customers will make sure to seek out your trade show booth no matter how large the convention hall may be.
Las Vegas Trade Show Booth Ideas and Tips.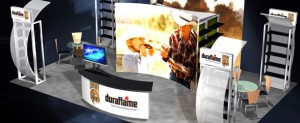 Unless you have an especially creative inspiration, don't try to compete with the excitement of the city when brainstorming your trade booth ideas. Instead, concentrate on the advance publicity so that the attendees will find your trade show booth.
Include a map of the venue with the location of your Las Vegas trade show displays highlighted. The trade shows in Vegas are usually huge. It's possible that the people you are hoping to attract will never make it to your location if they have to wander around looking for you.
Because the exhibitions in the city are so popular, now would be a good time to work with trade show booth rental services that are locally available. Once the attendees find your booth, you want to make sure that they spend time going over your tradeshow exhibits.
Display stands, furniture, accessories and even Las Vegas trade show booth rentals are all geared toward making the local events more profitable for your business. A rental service will deliver the items to the venue, set them up, tear them down and return them, making it a lot easier on your staff.