Exhibit branding might start with your logo. However, it goes beyond colors, graphics, and shapes. It is an all-encompassing experience that takes into account the entire user experience, staff, display stands, backdrops, and products.
Consistent and cohesive use of your name, logo and message points will present your organization in the same fashion to everyone.
Source: Stengel Solutions
When you consider some of the most successful brands out there, such as Microsoft, Apple, and others you will see that the company icon and image are easily recognizable by most people even though it only contains one image. If you aren't a major brand there is still a lot you can do with some booth ideas for exhibit branding.
10 Tips and Booth Ideas for Exhibit Branding Made Easy
1. Too Much Flash can be Overwhelming
Exhibit branding does not have to be flashy or over the top, but it is important to get your brand out there in every way possible. Whenever you can add in the company name or the company logo without making the finished effect seem crowded you should do it. The more people see your brand and image the more your company and products will be recognized.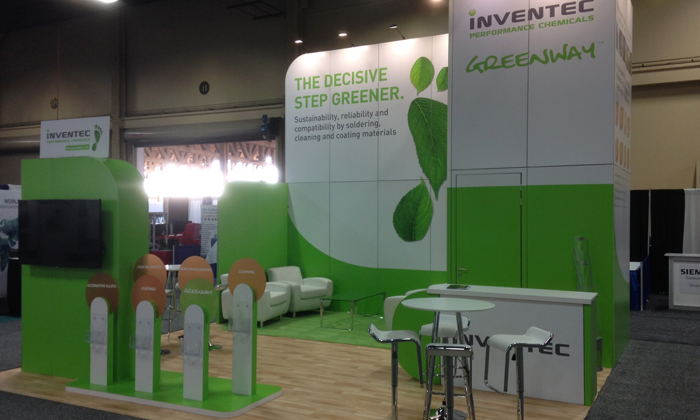 Inventec Trade Show Exhibit by the Design Factory
Click here to see the booth from concept to creation.
2. Research and think out of the box for Booth Ideas
If you want to get some booth ideas for your next event then the Internet can be a terrific resource. Look at what has been done in the past, and what trends are popular right now. This will help you think of ways to make your brand and exhibit stand out among the competition. Consider things that no one else is doing, or taking the opposite route of current trends.
3. Portable Display Stands
Add portable display signs in front of your booth to increase your exhibit branding. Use images of your best selling products, lists of benefits, and bullet points with company and product information in order to engage interest in your brand and boost brand recognition in your chosen industry. Being portable means you can adjust your exhibit layout to account for unusual flows of traffic that you didn't account for too.
4. Brand all your Collateral Material
Your marketing materials can play a role in exhibit branding at any event, because these are displayed prominently in your booth and they can increase your brand exposure. Brochures, pamphlets, flyers, information sheets, posters, and many other elements can all combine to create a fantastic exhibit that gets your image and company out to the public.
The collateral of your brand is often the first impression of your product or service and first impressions really count.
Source: Persona Design
5. Samples and Giveaways for Brand Recognition
One of the best booth ideas if you are trying to increase brand recognition is to give away samples or promotional items that visitors will actually use. Make sure that each item has your company name and logo on it. Every time the individual uses the item, they will remember your company and the products or benefits that you can provide for them.
6. Show off your Products
Place all of your available products on display in order to boost your exhibit branding. Make sure to keep the number of products that you have on hand manageable. If your business manufactures 37 products then you may want to choose just 5 or 10 to display, but make sure you can take orders for the others that are not displayed as well.
Good branding differentiates your products and services in a positive way that really sticks in the minds of potential customers.
Source: Karen Saunders
7. Drawings, Prizes, and Winners
If you are looking for great booth ideas and you want to get your name recognized then offer something that no one else does. Try holding an hourly drawing for a small prize, and then a grand prize drawing for something valuable for all of the hourly winners. Hand out a goodie bag with branded promotional items and an entry ticket.
The most creative exhibit booths may offer something that no one else is, such as a year of free products or services.
Click here to read the complete article: Top 10 Ideas for Selling Your Business using Creative Exhibit Booths

8. Banners, Backdrops, and Step and Repeats
Use banners that include your logo or product photos for better exhibit branding. A backdrop that repeats your company name or logo (step and repeat) can be impressive to look at, and visitors will be able to quickly identify your business without having to stand in line to ask questions.
One of the best choices when it comes to branding exhibits is a hanging banner that serves as a backdrop.
Click here to read the complete article: 10 Tips for Choosing the Perfect Trade Show Booth Backdrop
9. Display Boards for Product and Service Information
Use a display board to list all of the relevant company and product information if you want to boost your exhibit branding at the next event. If there is space available, you can even use additional display boards with some of your top products. Show off what they can do for consumers or those in your chosen industry.
10. Check your Competition and Keep it Unique
Get creative with your exhibit branding and possible booth ideas. Think unique, creative, and out of the norm. Examine what the competition has been doing and then try to come up with something original and unique. You will not get a lot of brand exposure if your booth blends in with all of the others on the show floor.
If you're going to develop your brand, the last thing you want to do is follow the beaten path.
Source: Forbes.com Lois Geller
Your Face to the World
Your brand creates trust and confidence and is your identity to your market. It makes it easier to sell your products and services to customers. You might not be a Nike or Coca-Cola, but your exhibit branding done correctly will get you on the road to having your brand well known and recognizable.
What exhibit branding tips and secrets can you share?