The right furniture in exhibit booths takes a boring booth to a spectacular one. Furniture rentals for trade shows make it easy to customize the look for different shows so that each exhibit shines and stands out from the crowd.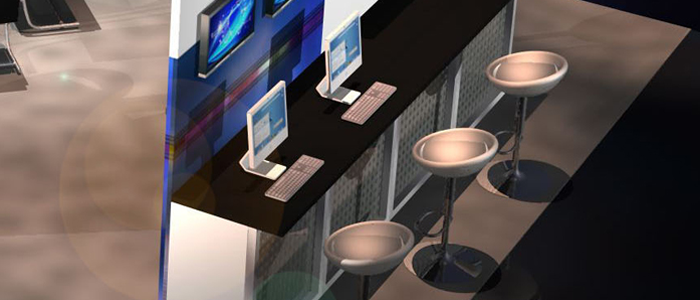 View our furniture brochure here.
Making the right furniture choice takes a bit of knowledge and forethought. Our tips will help make your decision an easy one.
10 Tips for Furniture Rentals for Trade Shows
1. Choose your furniture rentals for trade shows with your overall trade show booth design in mind. You want to choose pieces that keep traffic flowing. Both the appearance and branding of your booth needs to be consistent. Consider each item in terms of how it will improve the function and appearance of your area, and how well it fits with all of the other components.
2. Think about the furniture that you will use before you even start the trade show booth design. Do some research online and see what is available, so that you know what your choices are and an approximate cost for your exhibit furniture needs.
Types of furniture rentals for trade shows include:
Chairs
Barstools
Café tables
Bar tables and bars
LED pedestals
Conference and office chairs
Conference tables
Lounge seating
Occasional tables
Shelves
Lamps
3. Set a budget before you start looking at furniture rentals for trade shows. This will help you make adjustments if necessary so that you do not exceed your budget, while allowing you to make your area extremely attractive and appealing to your visitors.
Don't be penny wise and pound foolish when it comes to your show budget.
Source: TradeShowInstitute.com under Creative Commons License: Attribution
4. Use the same colors with the furniture that you do with your trade show booth design concept. This will provide consistency and ensure that each piece of furniture fits well with the overall feel of the area.
5. Comfort can be a top priority when it comes to furniture rentals for trade shows. Think about how each piece will be used, and evaluate how comfortable it will be. If you have chairs that are hard and uncomfortable then visitors may not want to stay at your booth long enough to provide contact information or discuss their specific needs.
6. Decide whether standard furniture rentals for trade shows are okay or whether you should go with a more expensive custom option instead. If you want items that are unique and which are designed specifically for your company and brand then you may be better off purchasing these outright instead of renting.
7. Compare different companies that offer furniture rentals for trade shows. Look at a number of factors, including the overall cost, the quality of the items that you want, and even whether the pieces can be delivered before you will need them. Check reviews and customer comments about the company to make sure they are dependable and reputable in the industry.
8.  Function is just as important as consistency with your trade show booth design. Make sure that any furniture that you will be renting can meet the desired functions that you want.
9. Think about available space and size requirements when you are looking at furniture rentals for trade shows. If you get a large table but you have a small space then people may start to block traffic to your area because they have limited movement, hurting your show results instead of helping them.
10.  There are many different options when it comes to furniture rentals for trade shows, and some will be right for your booth while others will be all wrong.  Never let cost be the most important factor, whether you are considering the final trade show booth design or the furniture that your exhibit will include.
Have you ever used furniture rentals for trade shows and what factors did you consider important?