If you want trade show signs that stand out, ones that are quickly visible when visitors enter the venue, then there are some tips that can help you meet these goals. Large graphics in trade show exhibits will get noticed more quickly, and your signs will be seen from further away. Carefully chosen color combinations can help your company boost the brand image and reputation that you have.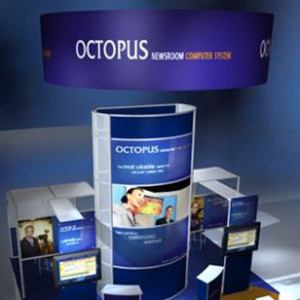 The design chosen for your convention exhibit should be consistent in every area, so that all of the items and components fit together and mesh perfectly. You want displays that give your company a professional business image and an air of authority in your industry. If these are missing then you may be passed over for a competitor instead.
Choose the sign types that you are using carefully and only after thoroughly evaluating and comparing the various choices that you have. You also need to try to think outside the box and get creative, so that your displays set you apart and make your brand unique and unforgettable.
1. Use Large Graphics on Trade Show Signs for Visibility
When you design trade show signs, it is important that these are extremely visible to all of the visitors who attend the event. You only have seconds to make a good impression, and you want people across the room to see and notice your booth quickly. If the text or images are too small then you may not get the traffic for which you are hoping.
2. Decide on Color Combinations Carefully
The color combinations that you use with your trade show signs should work well with the colors that are used for the rest of your area and exhibit. This will create a more favorable impression of your company and your brand, and give you a more professional image to potential customers. Avoid using too many colors together because this can be confusing and turn visitors away.
3. Your Convention Exhibit Theme Should be Consistent
Consistency in every area and aspect of your convention exhibit is important, and this includes the trade show signs that are being used. If your area looks like it contains mismatched components or conflicting features then this could affect the way that your company and your products are viewed by the public.
4. A Professional Business Image is Critical
All of the trade show signs you use should look professional, otherwise your entire convention exhibit could be impacted. Blurry graphics, incorrect spelling or punctuation, and other common errors could cause a loss of credibility, and these should be avoided at all costs. Proof everything twice to avoid any mistakes with the final materials.
5. Compare Sign Types before Choosing
There are many different types of trade show signs, and each type will work well in some situations but not so well in others. Compare the different types and evaluate how well each one will fit with your projected image and design choices.
6. Think Outside of the Box and get Creative
If your convention exhibit is just like all the others then your booth could disappear in the background. Try to think outside the box and get creative, doing something that no one else has. This can take a little research but it will help you create a booth that is distinctive and very hard to forget.
What tips on trade show signs can you offer that will make these items really stand out and attract attention?