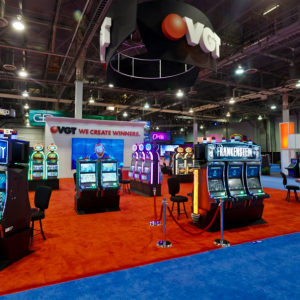 Sometimes it can be difficult to come up with trade show booth ideas that really engage your audience. After all, so many experts advise on the technical aspects of setting up a trade show exhibit—like what kinds of pipe and drape make the most impact. Or what types of media you should use to attract people to your booth. But the truth of the matter is this: there's a big difference between attracting an audience and engaging an audience.
Engaging an audience means you invite people to come into your booth and stay awhile. It means creating the foundation of a lifelong partnership. It means more than a quick glance at your shiny, extravagant booth. It means that people seek you out and buy your products—for the long term.
So how can you move beyond attracting your audience, into engaging your audience? Let's look at how to get started.

Trade Show Booth Ideas: People Relate to Stories

Everyone relates to a personal story, and everyone has a story of their own to tell. There is no quicker way to engage your audience in a dialogue with you and with your company than by sharing a personal story. This can be your story, or it can be your founder's story. Share it—use it—brand it as part of your company's image. In today's overcrowded and noisy marketplace, authenticity makes you stand apart from all the white noise.
In addition to sharing a story, make sure that the people in your booth are dynamic. While you share your story, you want to have people working for you who encourage others to interact with them. In other words, make your story less of a lecture, and more of a conversation.
Trade Show Booth Ideas: Keep It Simple
Another way you can engage your audience is to keep your message and your booth simple. Remember, this is not a showroom. Nor is it a warehouse. You have a small amount of space on a crowded convention room floor; don't cram everything you have into your booth in an effort to impress your customers. Instead, find between one and three points to emphasize and make sure that everything you include in your booth relates to these points on some level.
Your customers will look at your booth as an oasis of calm in a sea of chaos, and your message will be much more clearly articulated. And when your message is clear, you have a better chance of engaging your audience.
Trade Show Booth Ideas: Product Demonstrations
Few things will engage an audience faster than allowing them to experience your products first-hand. So rather than clutter your booth with a lot of signage, products, or nick-knacks, you should use as much of your exhibit space as you can for product demonstration. If your convention offers a trade show daily, you can include a schedule of product demonstrations so that your audience knows when to drop by for specially-presented product demos.