Manning a trade show convention booth is a great way to establish new relationships with potential customers and to build upon the ones that you already have with existing clients. Choose your venue of trade show wisely and your selection of display booth with even greater attention to detail to ensure optimum success in your new marketing strategy.
For a trade show to be successful, it is important to be diligent in the planning of the event, including the setup time required for your convention booth.  Here are some tips that might help you.
Convention Booth Setup Time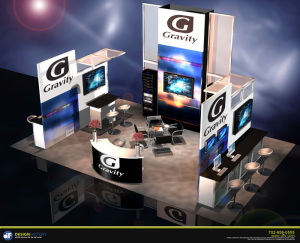 This factor is so often ignored in the planning of the trade show.  Business professionals often spend so much time selecting the perfect convention booth without regard to the difficulties and time constraints involved in its implementation prior to the trade show itself.
You will need to do some research with the organizers of the event to determine when your team is allowed entry prior to the expo in order to arrange the convention booth and your marketing materials.  If this is your first time at constructing your display booth, you may want to complete a practice run at the office first, to determine how much time you will need.
Please note that some cities require union workers for the setup and takedown of exhibits. For example, in Las Vegas trade show organizers use the Teamsters. For more information and help with booth setup and takedown, click here.
Bring Help

It is not uncommon to have additional employees on hand at the arrival of the trade show, if simply to help setup the convention booth.  These employees do not have to be your star sales representatives, but perhaps simply the "handiest" members of your team.
If you are a smaller company and its "all hands on deck", you can ask friends and family for assistance in the assembly of the display booth or outsource these needs to other construction or home repair professional services inexpensively.  The key is to plan a little conservatively, allowing a little extra time in case unexpected events occur.
Get Ready in Advance for your Convention Booth

A very common type of unexpected event occurs when we have not prepared well enough in advance of the trade show.  Make sure that all of your marketing materials are boxed and ready for transport.  Remember to pack the food and drinks.  Don't forget the business cards and brochures.  Create an itemized checklist in the days and weeks prior to the trade show.
Very often when these expos occur, there is a small window of opportunity to get organized and setup before those doors fly open and you are surrounded by potential new customers.  You will send the wrong message if you are still constructing your convention booth as the hoards of people walk past.  Remember, you only get one chance to make a great first impression.
You are on your way to all the business opportunities that conventions and trade shows have to offer. With the proper preparation you should have a great experience and take back some new clients.