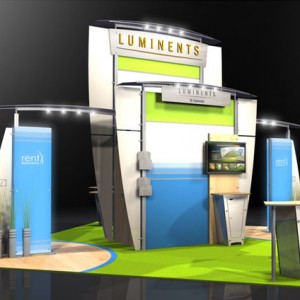 A trade show display rental is a good way for your company to try out several designs of trade show booths before investing in an expensive resource to promote your company to potential customers and clients. Renting a display is also a cost effective option for a business that only participates in a small number of trade shows annually.
The staff that will be working your trade show booth will appreciate the fact that the display will be easy to set up and take down. Sufficient storage space of additional promotional materials and a place to hide their bottled water will also make them more efficient as they work the show.
Tips to Bring Potential Customers to your Trade Show Booth
Trade shows are busy and crowded. It's often easy for a company to be overlooked in the activity of the crowd of visitors and participants at a well attended marketing event. Use every opportunity to attract visitors to your trade show booth by targeting their sense of curiosity.
Use well-designed banners and lighting to attract attention of a potential customer who may otherwise pass you by. These eye catchers use a small amount of space, leaving more room for your display and employees who are manning the trade show booth.
Promote Your Business with your Trade Show Display Rental
The marketing department has spent a lot of time creating a display that will take advantage of every feature of your trade show display rental. It's important that the people who will represent your company knows in advance how to quickly set up and knock down the display duplicating the design they have created.
Keep the design intact and professional by not allowing your promotion materials to litter the display area. If it's not part of the display, replace the items to their proper storage area as soon as you are finished with them.
Your Trade Show Table Layout
The size and shape of your trade show table should be chosen with care. The amount of space you will be given to promote your business will differ from venue to venue, so the table should be chosen to take up the least amount of space while still allowing you room to promote your products and services.
A cluttered exhibit table will make it difficult for visitors to your trade show display rental to see the entire promotion display. If you are promoting various types of products, save space by using vertical displays. Place the objects in logical groupings so that your guests are not confused.
Make sure that there is space available for the exchange of contact information. Don't lose sight that this is the main goal of the trade show.