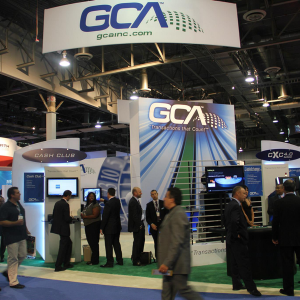 You've heard by now that trade show rentals can save money, but how can you tell what's best for purchasing? Is there anything you should make a long-term investment in? Are there some pieces of your trade show booth that are simply better to rent than buy? While it's true that you can save a great deal of money and can cut down on your use of resources by renting, there are definitely some things that every trade show exhibitor should buy.
What items are investment pieces, and which ones can be rentals? Let's examine this question further:
Trade Show: Rental or Purchase Items?
Let's begin by discussing which items should be purchased as long-term investments for your trade show booth. You want to invest your money in graphic design elements that will be customized specifically to your company and its products, and that will travel with you to help advertise everything you do. So, for instance, you should purchase:
Large format printing items, such as backdrops;
Posters and other elements that help advertise your booth on the convention center floor;
Brochures, flyers, and other collateral advertising items;
Swag that you use for giveaways; and
Anything that requires your logo and/or contact information to be printed professionally on it.
You want to save your money and have the highest-possible printing done for these types of items as your budget can afford. These collateral marketing items are, in a sense, your ambassadors. These items speak for your company when you cannot be there to advertise. And as such, you need to spend as much money on them as it takes to make them look professional.
Trade Show Rentals: When Renting Is Best
On the other hand, you want to rent the items for your booth that are cumbersome, heavy, difficult to store, and expensive to ship. It's much cheaper to rent a display in your convention town than it is to lug your own display cross-country. You should also rent a display when you are testing out designs and want to make sure you've got the right setup before you make a purchase. Following are the items that you should consider renting before you buy:
Carpeting for your trade show booth;
Furniture for your trade show booth;
Pipe and drape;
Backdrops and modular fittings;
Shelves and display cases;
Pedestals and display stands; and
Tables of any size.
By renting these items, you save a great deal of money, have the flexibility of choosing what you want and playing with your display before you make a long-term commitment.
Trade Show Rentals: Talk to a Consultant
If you are unsure whether you should rent or buy for your trade show booth, it is a good idea to discuss your dilemma with a consultant in the industry. Many trade show exhibit showrooms have consultants who can assist with making the best decision–one that suits both your needs and your budget.